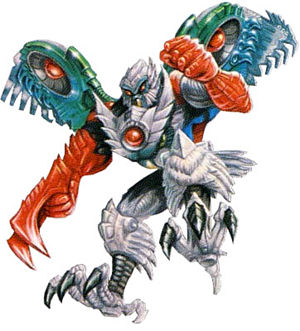 Prowl is not a verbose Maximal, preferring instead to listen. He gathers information, analyzes it, and instantly suggests an appropriate course of action. His logical mind is without match among his Maximal brethren, who rank him among their best military strategists and intelligence officer on Cybertron.
Prowl had attended the Maximal boot camp alongside Cheetor and Ironhide to became an intelligence officer due to his education as an aerial intelligence officer-in-training. He was asked by his drill sergeant Polar Claw to keep an eye on Stinger as a Predacon spy. With the help of Cheetor and Ironhide, he caught Stinger. Even though he didn't became an Elite Guard, he became a Maximal Intelligence Officer on Cybertron.
Appearance
Edit
Robot Mode
Edit
Beast Mode
Edit
His beast mode is a bio-mechanical Transmetal 2 great horned owl.
Personality
Edit
RelationshipsEdit
Allies/Maximals
Edit
Enemies/Predacons
Edit